In this article, I am going to review the LDO Voron 0.2 kit, a printer that you need to build from a bucket of parts, including printing all the plastic parts out of ABS yourself.
Let me be clear: the only people who buy a Voron kit should be those who enjoy the process of BUILDING and TUNING a 3D printer, because if all you want is a high-performance machine that works out of the box – this isn't it.
But if it is something you are interested, then this kit is one of the best you can get.
Here's what I think about it.
What I Love About the LDO Voron 0.2
As you've probably heard before if you've watched videos about Voron Kits, the LDO kit is the one to beat, and the quality – not only of the parts themselves but also of the instructions and supplemental manuals – is second to none.
LDO makes a phenomenal, all-around great kit, and where they really excel is in including all the latest and greatest upgrades and modifications you might want to do.
PicoBilical PCB? No drop nuts? Kirigami Bed? RGB LEDs? They're on top of all of it, and keep their kits up-to-date with the latest, greatest upgrades you might possibly want.
The LDO kit – which I outfitted with a Slice Engineering Mosquito Magnum that was provided to me – prints beautifully.
The quality of the parts is phenemonell.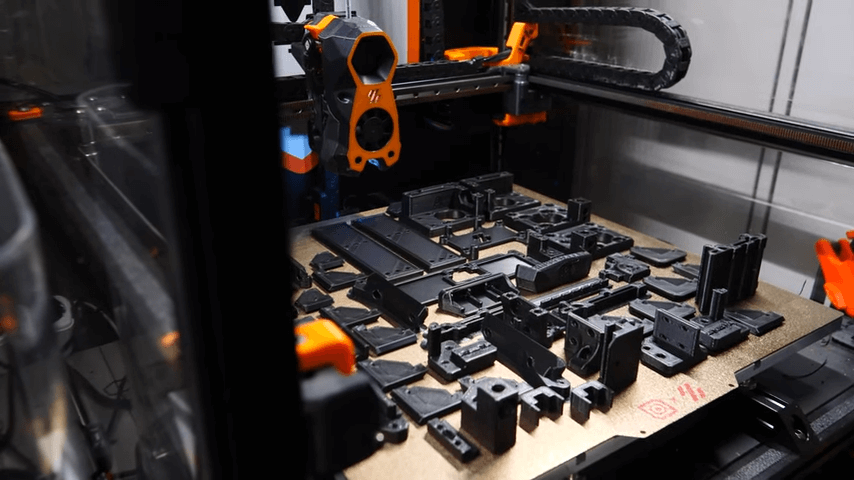 LDO has chosen to use the more expensive, but better options when it comes to electronics, such as including an E3D Revo, the BTT SKR Pico control board, and they recommend using an authentic raspberry pi zero.
The instructions – even when they differ from the official voron guide – are great. I have no complaints about the printer itself, to be honest.
What I'd Change About the LDO Voron 0.2
With all that said, I hate to say that as we were building this kit alongside the next printer I'm going to talk about, there were a few things that really stood out to us.
First, LDO's choice of packing the hardware each in individual baggies, while more convenient than no organization whatsoever, is not the best way to make them easy to find – and a simple labeled organization box would go a long way.
Second – and this is really my only other "complaint," is the price.
Don't get me wrong: LDO has earned their name as the top-of-the-line when it comes to Voron kits, and so they deserve to command a premium price.
But this kit – which is priced at $649 from most retailers – typically comes without a Raspberry Pi or printed parts. That is a LOT of money, especially when compared to the next printer on our list.
Oh, and maybe just one more thing – and this isn't an indictment of the LDO kit, but rather, of the Voron mini stealthburner design as a whole.
This thing has the cooling capability of an asthmatic baby angel blowing through a straw.
If you're planning on buying a 0.2 kit for printing speed benchies, or small PLA objects, think again, because you'll need SIGNIFICANT amounts of auxiliary cooling to even come CLOSE to the speeds of something like the Qidi X-Max 3 or Bambu Lab X1 Carbon, simply because of the lackluster cooling capability of this design.
The Verdict
If you are looking to build a Voron 0.2, and you want the latest, greatest version with all the bells and whistles, upgrades, perfect documentation, and a tried-and-true name, look no further than the LDO Motors kit.
I can say, with confidence, that you will be extremely happy with this kit, and if you don't have time to mess around, this is the way to go.
With that said, unless you're able to print ABS on your own, you may need to buy either CNC or Printed parts, as well as a Raspberry Pi Zero, and all that can get expensive pretty fast. So keep all that in mind while deciding whether to purchase it or not.