Let's start things off with a machine that has been shrouded in controversy, after YouTuber Clough42's discoveries caused Qidi to pull their entire line of new Klipper printers off the market.
Fortunately, they really took his feedback to heart, because the unit I received was free from that specific issue – though not perfect, as you're about to see.
The X-Max 3 is a large format printer, with a 330×330 print bed area, active chamber heating, Klipper, and more.
And let me just tell you, right off the bat, this thing is phenomenal.
Get the X-Max 3 Here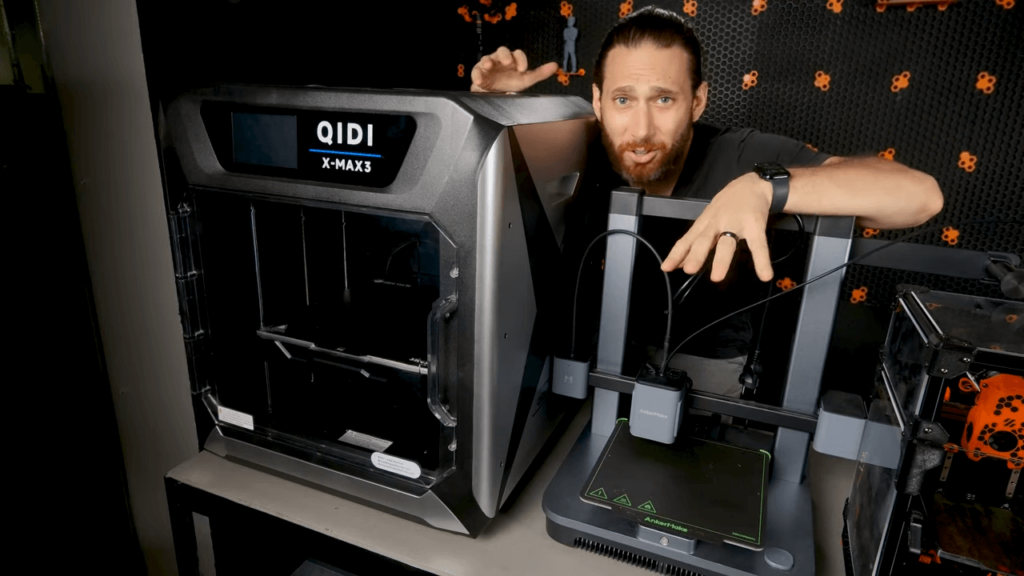 There's a LOT to love about the Qidi X-Max 3.
First of all, it's running a full, unrestrained version of Klipper – though, more on that in a second – with a super easy-to-use touch screen interface built on top of it.
Second, the large build volume is a welcome change over most of the other "Bambu Lab competitors" like the Creality K1.
Third, the quality of the prints, whether PLA, ABS, or even exotic materials, is some of the best I've ever seen.
In fact, this thing prints a 16 minute benchy that quite frankly rivals the quality of a 1 hour and 40 minute benchy printed on a Prusa MK3S+. It's THAT good.
Bed leveling works phenomenally, the hot end, which is, to be honest, heavily inspired by Bambu Lab, flows incredibly well, and the printer is well thought out in terms of ergonomics and usability, with things like handles and an easy-to-remove top lid.
This thing, right out of the box, reliably produces phenomenal prints in any material you throw at it, and it quickly became one of the printers I just set and forget as it churns out beautiful parts over the entire weekend.
What I'd Change:
With all that said, the more I used the X-Max 3, the more I discovered little annoyances that really took away from the experience.
First of all, in order to change the hot-end – which you'll have to do if you want to print abrasive materials – you need to take apart basically the entire tool-head, including the back cover, a process which takes 20 minutes or so even if the printer isn't tucked away on a shelf.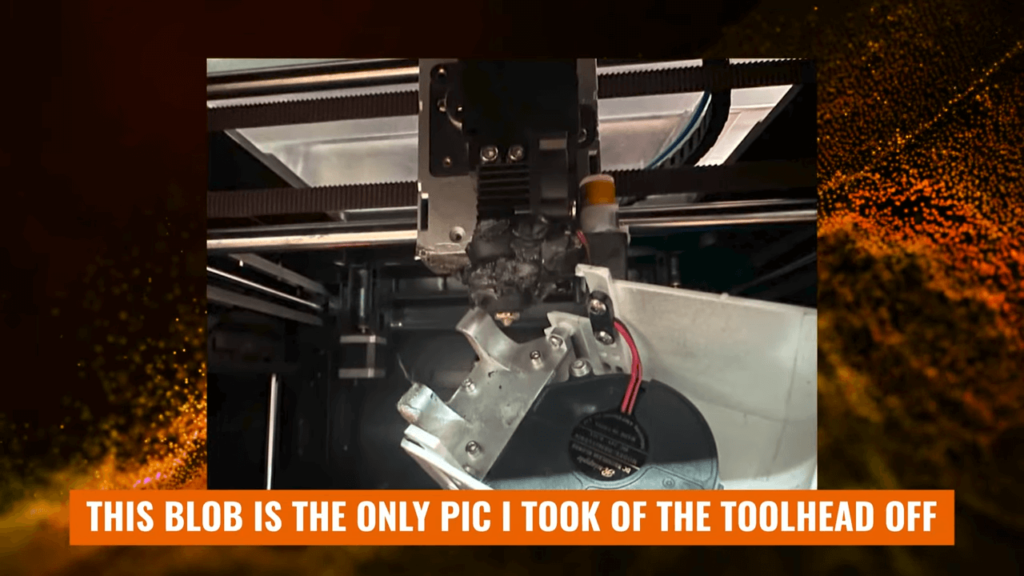 I quickly resorted to just changing the nozzles, which, thankfully, are slightly shorter Volcano V6 nozzles, instead of swapping out the entire hot-end.
Second, although the machine runs a full, open-source version of Klipper, I discovered that you, the user, cannot freely upgrade or modify it without damaging it.
I made the mistake of upgrading the printer to the latest versions of Klipper and Moonraker, only to discover that I'd bricked the machine.
And when I spoke with support to see how I could roll back the software, they informed me that they would have to ship out an entirely new EMMC, because there is no way I could roll it back myself.
That's absolutely insane, and while I really love the touch screen interface and ease-of-use improvements they've made to Klipper, to me, nothing is worth trading off the ability to upgrade the printer on my own if, say, i want to install things like OctoEverywhere or Mainsail to suit my needs.
Additionally, I definitely would've appreciated if Qidi included a Camera. I understand that this may be hard to do on a printer with a heated chamber, but at $1,000, and a build volume this large that could take days to print, I would expect to be able to monitor my prints like I can on the Bambu Lab X1 Carbon.
Finally, there's the design.
The X-Max 3 isn't a bad looking printer, but it definitely doesn't win any awards when placed alongside the Creality K1 or Bambu Lab X1 Carbon.
The housing seems bigger than it needs to be, and the use of plastic all over instead of glass and aluminum cheapens the look and feel of the machine.
The Verdict – Should You Get The Qidi X-Max 3?
Overall, I give the Qidi X-Max 3 a resounding two thumbs up.
If Qidi is willing to change the software, or provide regular updates of their own, modified version that allow users to take more control, I think this printer will be a huge hit.
If you're one of the MANY people waiting around for a bigger version of the Bambu Lab X1 Carbon, wait no longer, because this machine ticks all the boxes, and with a $29 webcam and an OctoEverywhere subscription, you basically want for nothing.
Get the Qidi X-Max 3!