Imagine a pen that can bring your digital creations to life, shaping them into tangible, three-dimensional forms.
This is the power of the 3D pen – a device that writes not with ink, but with plastic filament; It's like a hot glue gun on steroids. It's simple, portable, and affordable.
The 3D pen is a multifunctional tool that can be utilized to produce a wide variety of items, including but not limited to artistic crafts, architectural designs, and playful toys.
This versatile tool is ideal for professionals in the fields of art and engineering as well as individuals who have a passion for crafting.
In this article, we'll show you 11 cool things you can make with a 3D pen as a beginner, get ready to see your creativity soar to new heights!
Awesome 3D Pen Ideas For Beginners
Without further ado, here are the best ideas we have managed to come up with:
Cool Thing #1: 3D Printed Jewelry
No need to spend hours at the jewelry store trying to find the perfect piece – you can just print it yourself!
Unleash your creativity and bring your jewelry designs to life with the magic of a 3D pen. Craft unique custom rings, earrings, pendants, and more with precision and ease all from the comfort of your own home.
Cool Thing #2: Home Décor
Incorporating 3D-printed home decor into your space is a great way to add a personal touch and some creativity to your living environment. With a 3D pen, the possibilities are endless – you can create everything from dainty trinkets and tabletop accents to bold and eye-catching statement pieces.
All you need is a 3D pen, some plastic filament, and a bit of imagination. The results are sure to be stunning!
Cool Thing #3: Doodles and Drawing
Other fun and creative things you can do with a 3D pen are doodling and drawing. This is a great way to get a feel for the pen and to see what it's capable of.
The sky's the limit when it comes to 3D doodling and drawing – you can create anything from simple geometric shapes to intricate and detailed art pieces.
Cool Thing #4: Architectural Models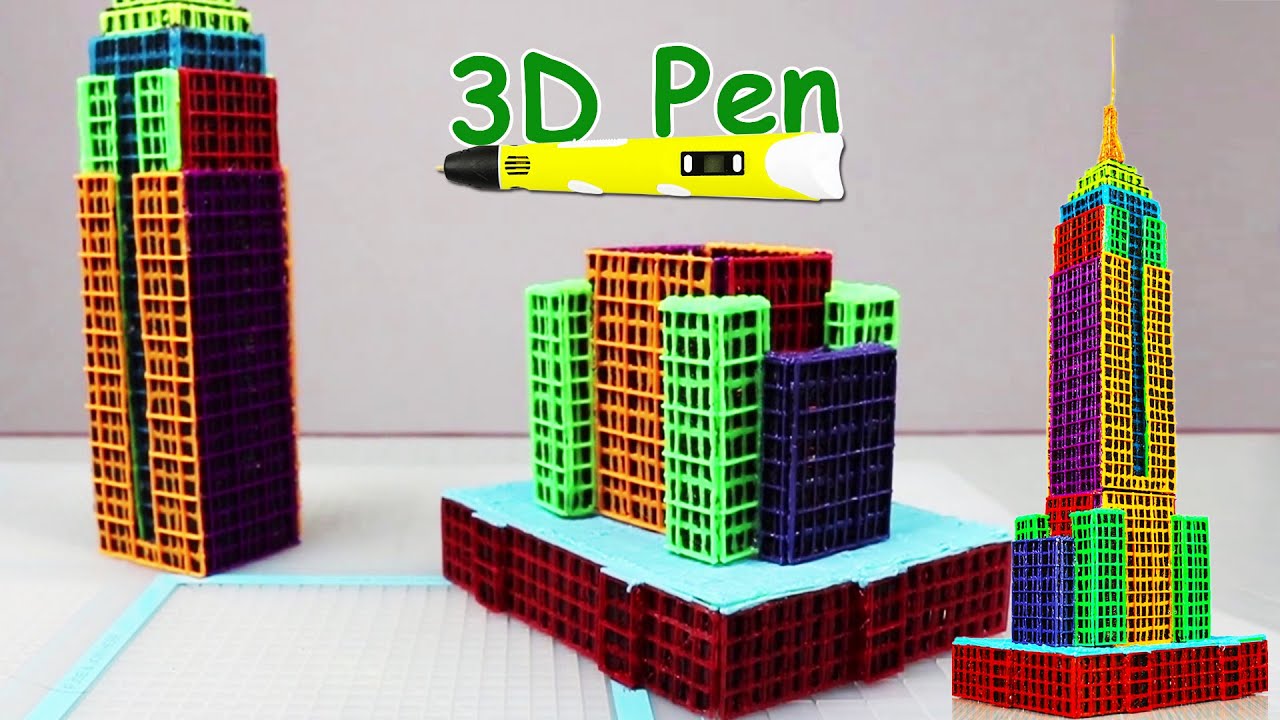 If you have a love for all things miniature and a knack for building and design, then 3D printing with a 3D pen is sure to become your new favorite hobby.
You can use your 3D pen to create all sorts of tiny structures and landscapes, from small-scale models of buildings and homes to detailed replicas of famous landmarks. The possibilities are endless!
Cool Thing #5: Toys and Figurines
Looking for a unique and personalized gift for a child or toy collector? Look no further than 3D-printed toys and figurines!
With a 3D pen, you can create all sorts of fun and imaginative playthings, from action figures and dolls to vehicles and playsets.
Cool Thing #6: Art and Sculpture
If you're an artist or sculptor looking to take your work to the next level, a 3D pen can be a great tool to add to your arsenal.
With the ability to create three-dimensional pieces, a 3D pen allows you to bring your digital designs to life in a previously impossible way.
Begin your journey today, and imbue your sculptured model with a breath of realism!
Cool Thing #7: Customized Keychain
Customized keychains made with a 3D pen are a fun and easy way to add a personal touch to an everyday item.
This is a perfect gift for friends and family and also can be sold online or at craft fairs as a unique product.
Cool Thing #8: Customized Phone Case
Creating a custom-made phone case is a fun and easy project for beginners to try with a 3D pen, and the result is a cool and personalized accessory that you'll love to show off.
Whether you want to add a personal message, your favorite quote, or a unique design, the possibilities are endless.
Not only will your phone case be unique, but it will also provide an extra layer of protection for your phone.
Cool Thing #9: Customized Ornaments
With a 3D pen at your fingertips, the art of ornament-making reaches new heights. No longer are you limited to store-bought decorations, now you can create your own unique and personalized decorations for every occasion.
From the warm glow of a Christmas tree to the joyous spinning of a Hanukkah dreidel, from the colorful Easter eggs to spooky Halloween decorations, you can create them all.
Let your imagination run wild as you bring your special touch to each celebration. And the best part? It's easy and stress-free. A perfect way to add a personal touch to your home, or a thoughtful gift for your loved ones.
Cool Thing #10: Customized Bookmarks
Calling all book lovers! Say goodbye to boring, plain bookmarks and hello to unique personal creations.
With a 3D pen, the sky's the limit.
Imagine having a bookmark that tells a story, one that reflects your current read or your style.
And the best part is that you can create different designs to match your different books, so you'll never lose your page again.
Cool Thing #11: Anything You Can Imagine
With a 3D pen in hand, the world is your canvas, and your imagination is the paintbrush.
This magical pen holds the power to bring to life whatever your mind can conjure, from the tiniest of details to the grandest of creations, nothing is impossible.
Imagine it, draw it, and it can become a reality.