Puzzles have been a long-standing form of entertainment for individuals of all ages.
They serve as an enjoyable and stimulating way to exercise cognitive abilities and improve problem-solving skills.
However, traditional flat puzzles can become tedious and repetitive over time.
In this context, 3D puzzles represent a unique alternative, offering a higher degree of complexity and excitement.
They are suitable for both children and adults, and come in a wide range of themes and designs, varying in difficulty levels. Additionally, they can be used as decorative pieces once fully assembled.
In this article, we will be highlighting the coolest 3D puzzles that are sure to keep you entertained for hours on end.
From mechanical puzzles for adults to STEM puzzles for kids, we've got something for everyone!
What Are The Best 3D Puzzles?
Below is our full list of awesome 3D puzzles:
Flying Dutchman Pirate Ship
Unleash the ghostly tales of the infamous Flying Dutchman with this intricate 3D model puzzle.
Assemble over 360 pieces to bring the legendary ghost ship to life with realistic details such as masts, sails, and even decorative lights.
Measuring over 20 inches long, not only will you have solved a challenging puzzle but also have a striking statement piece for your home décor.
Perfect for pirate enthusiasts and puzzle lovers of all ages (above age 6), gender, and skill level. Embark on a mystical journey and discover the mysteries of the Flying Dutchman."
RMS Titanic Ship
Travel back through history and assemble the iconic RMS Titanic with this intricately designed 3D puzzle.
With over 266 pieces, this puzzle is not for the faint of heart but the finished product will be a true masterpiece.
The finished model measures over 30 inches long and includes realistic details such as the ship's grand staircase, luxurious cabins, and even the famous chimneys.
Perfect for puzzle enthusiasts and history buffs of all ages, this is a puzzle you don't want to miss.
Effiel Tower
The Eiffel Tower stands tall, a beacon of wonder and beauty, capturing the hearts and imaginations of all who lay eyes upon it. To some, it may simply be a tower, but to the majority of humanity, it is a symbol of romance, power, and splendor.
As you piece together this architectural marvel, allow it to transport you to the streets of Paris, bringing a touch of its magic to your very own doorstep.
Notre Dame de Paris
Yet another amazing monument from Paris – The Notre Dame de Paris, popularly known as Notre Dame Cathedral.
This challenging and intricate puzzle features over 293 pieces that come together to form a stunning replica of the famous cathedral.
The level of detail is impressive and the finished product is truly a work of art. Not only is it a fun and engaging puzzle to assemble, but it's also a great way to learn about the history and architecture of one of the most iconic buildings in the world.
So why not add a little culture to your puzzle collection and pick up a Notre Dame de Paris 3d puzzle today!
NASA Space Shuttle
Unleash the astronaut within and embark on a journey to the stars with this 3D space shuttle model.
Imagine the thrill of building your very own spacecraft, piece by piece, and discovering the wonders of the universe.
This 3D model is more than just a puzzle, it's a portal to a world of possibilities. Perfect for kids, this model will inspire their sense of wonder and curiosity, encouraging them to ask questions and dream big.
The World Map
Imagine the thrill of having a miniature world at your fingertips, ready to be explored.
As you piece together each country, continent, and ocean, you'll witness the beauty of the world come to life right before your eyes.
This puzzle is not only fun and educational, but also a perfect decorative piece that will add a touch of elegance to any space.
Football Stadium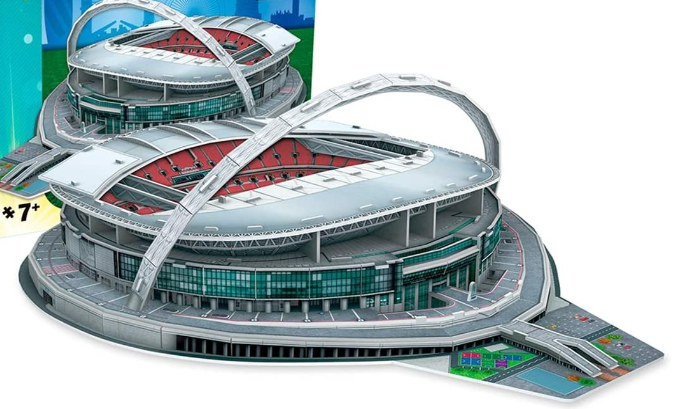 This 3D Puzzle Stadium offers the perfect combination of sports and puzzle fun for fans and enthusiasts alike.
Experience the thrill of Wembley Stadium, the heart of English football, as you put together each piece to create an incredibly realistic replica.
Challenge yourself and impress your friends and family with your finished model.
Tower Bridge
Introducing the Rowood Tower Bridge, a vintage and exquisite scale replica inspired by the famous London Tower Bridge located by the River Thames.
This puzzle is not only challenging and fun to assemble, but it also features LED lights and a switchable bridge deck structure for an added level of realism.
Once completed, the Rowood Tower Bridge serves as a stunning decoration piece that will add a touch of elegance to any room in your home. Perfect for puzzle enthusiasts, history buffs, or anyone looking to add some visual interest to their home décor.
STEM Robot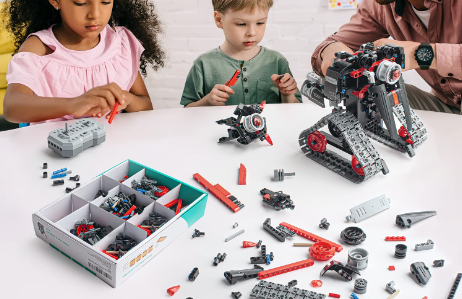 Introduce your child to STEM learning with this 5-in-1 robot puzzle-building kit.
With 419+ pieces, create 5 different models such as warrior robot, ninja robotics, racing car, and more. Includes phone app control, remote control, and step-by-step instructions.
This 3D puzzle develops creativity, hand-eye coordination, and teamwork skills. Great gift for ages 6-15.
Solar System – Planetary Orbits
Unleash your inner scientist with this 3D Solar System Puzzle, a gear-driven model that simulates the planetary trajectory of the solar system.
With 316 pieces, this puzzle features all eight planets and the sun, allowing you to showcase the concept of their orbits around the sun in a mechanical simulation.
It's not just a puzzle but also a fascinating adventure in STEM education, and also a simple desk decoration that'll spice up your space.
Friends Central Perk Coffeehouse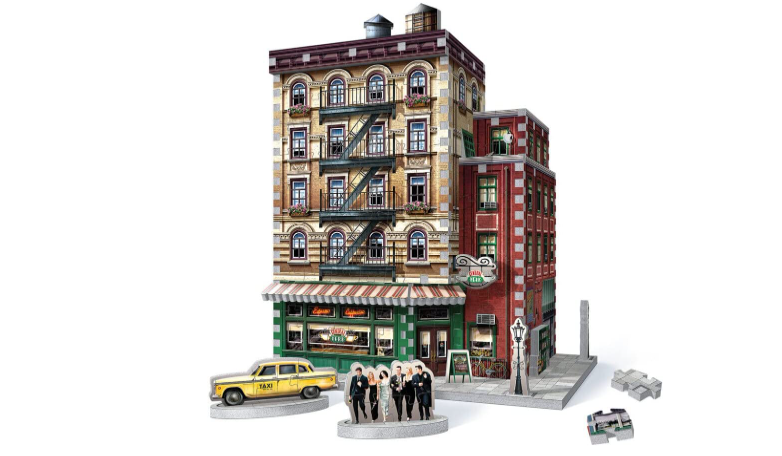 Friends wouldn't be Friends without Central Perk and this puzzle is the perfect way to bring a piece of the show into your home.
Fans of the iconic sitcom will love recreating the beloved coffeehouse that the six main characters frequently visited throughout the series.
With 440 pieces, this 3D puzzle offers a unique and fun way to have a feel of the Central Perk and relive the nostalgia of the series.
DIY Zodiac Wall Clock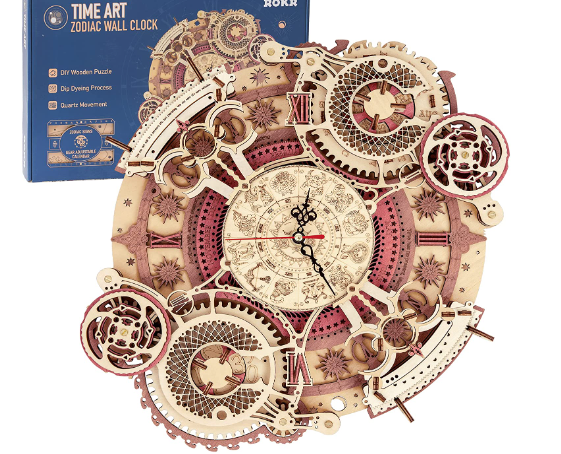 The 3D Puzzle Wall Clock, it's a unique puzzle that doubles as a real clock equipped with precise quartz movement and an adjustable calendar. Once assembled, it can be hung on the wall as a functional clock.
It's not only a functional clock but also a wall decor that will add a touch of elegance to any room. Perfect for anyone who has a passion for design, engineering, and mechanics.
Space Shuttle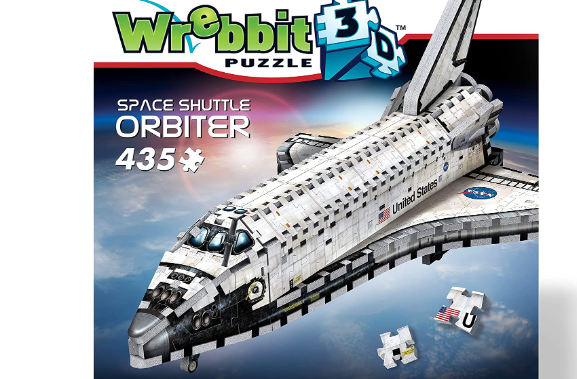 Experience the wonder of space exploration with the NASA Space Shuttle Orbiter 3D Puzzle.
This puzzle includes 435 easy-to-handle pieces that fit snugly together, requiring no glue for assembly. Fully assembled, the puzzle measures 18 inches x 11.5 inches x 8 inches, making it perfect for display in any room.
A great way to learn about space exploration and challenge problem-solving and spatial reasoning skills.
Game of Thrones Winterfell
Relive the epic battles and drama of Game of Thrones with the Got Winterfell model.
The puzzle features over 900 pieces, and it will take you on a journey through the Seven Kingdoms as you put together each piece to create an incredibly realistic replica of Winterfell, the iconic castle of the starks.
The detailed instructions will guide you through the building process, making it easy to assemble even for beginners.
Harry Porter – The Three Broomsticks Inn
The Three Broomsticks is a popular hangout spot for students of Hogwarts School of Witchcraft and Wizardry and a place where Harry, Ron, and Hermione often gathered.
Step into the magical world of Harry Potter with the 3D Three Broomsticks Puzzle. This intricate and detailed puzzle allows you to build your replica of the iconic pub from the Harry Potter series.
Rome Colosseum
Take a trip back in time to the days of spartan and gladiators as you piece together one of the most iconic structures in history, the Colosseum.
Assemble the pieces to unveil the Colosseum's intricate details, from the massive arches to the tiered seating that once housed thousands of spectators.
This puzzle is not just a fun activity but also a journey through time, a chance to relive the grandeur and history of ancient Rome. Unlock the secrets of ancient Rome with this model.
White House
Experience the thrill of building one of the most iconic and recognizable buildings in the world with the White House 3D Puzzle.
This puzzle captures the intricate details of the Executive Residence, West Wing, and East Wing, connecting colonnades, and the garden in one challenging and fun puzzle set.
Shotgun
The 3D Wood Puzzle Gun Model is a challenging and highly detailed puzzle that will surprise you with the level of realism and accuracy it offers.
With its unique design, this puzzle is fun and entertaining to assemble, and once completed, it will be hard to distinguish it from the real thing.
Pistol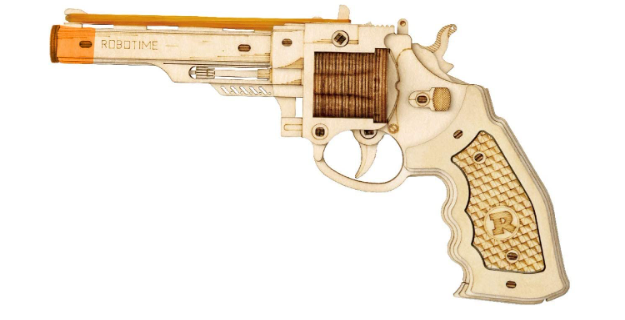 Maybe you prefer the precision of a pistol over the brute force of a shotgun, then this model is for you. Crafted with the utmost attention to detail and made of wood, this puzzle brings a new level of realism to your building experience.
Not just that, it also comes with the added fun of rubber bullets that shoot up to 3-5 meters. It also includes realistic target military figures to make your shooting experience more fun and challenging.
Ballista
Maybe guns aren't just your thing, and you prefer the traditional weapons of warfare. This model allows you to build a replica of a ballista, a medieval siege engine used to launch arrows at a distance.
The model is equipped with mechanical features that allow attack launch up to 10 feet, and a 360° rotatable turret to aim in any direction you want.
Cyber Gun
This model is different from a regular handgun, it has a cyberpunk design to it and a superior gun mechanism with two interchangeable clips to quickly load 7 safe rubber bands and shoot one after another with no need to reload.
Classical Gramophone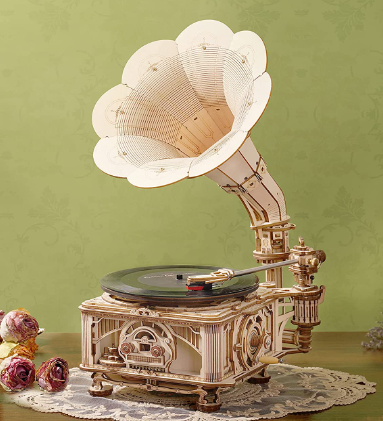 This gramophone model is a perfectly designed DIY 3D puzzle wooden craft kit that can play vinyl records in real life. just how cool is that?!
The model features 3-Speed (33/45/78RPM) Turntable, ruby record head, suitable for 7/10-inch vinyl record, with electric rotate mode/ hand rotate mode.
Vitascope Film Projector
Step into the world of film with the 3D Puzzle Film Projector. This unique puzzle offers a fun and engaging building experience, as you assemble your very own working film projector.
This projector is powered by your own two hands, requiring no batteries or cables.
Once completed, you can showcase the 58-frame classic clips of modern-era films with a realistic touch by simply turning the wooden handle on the right evenly.
Express Steam Train
All aboard the train of tomorrow with the 3D Steam Train Puzzle! This imaginative puzzle offers a new level of mechanical challenge, as you construct a detailed and futuristic train model.
As you assemble each piece, you'll feel like a mad inventor bringing the machine of the future to life.
The train model comes with its rails, adding an extra layer of excitement to the building experience.
Space Rovers
Unlock the mysteries of the Red Planet with the 3D Wooden Puzzle Solar Project NAVITAS Mars Rover.
This puzzle challenges you to build a replica of a futuristic space exploration vehicle, inspired by the very rovers that are currently being developed to explore the vast unknown of Mars.
As you assemble each piece, you'll feel like a space engineer bringing to life a solar-powered machine designed to navigate the harsh and rugged terrain of the Red Planet.
Get your hands dirty and embark on an out-of-this-world building experience with the 3D Wooden Puzzle Solar Project NAVITAS Mars Rover.
Buggy Car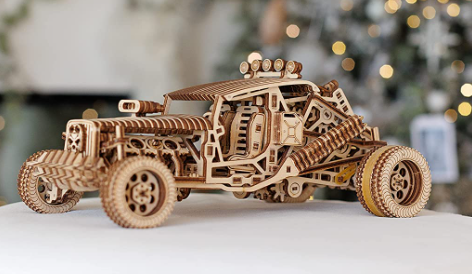 Put on your thinking hat to assemble this detailed replica of an off-road buggy car. Each piece is designed to fit snugly together to create a sturdy and durable model that can withstand playtime.
Monocular Telescope
This model was inspired by the monocular in the Pirates of the Caribbean movies.
It is a perfect 1:1 replica of a real telescope, equipped with eyepieces, objectives, a separate structure and a retractable stand.
Music Box
Bring the beauty of the night sky and the magic of music to your home with the Starry Night Music Box 3D Wooden Puzzle Model Kit.
This unique and challenging puzzle offers a fun and engaging building experience as you assemble a replica of a stunning music box.
The built-in high-quality music movement ensures that your music box will play beautiful sounds of music, and the melody of "MEMORY (FROM CATS)" will fill your home with a sense of wonder and enchantment.
Robot Orpheus
Are you tired of the mundane design of traditional music boxes?
Introduce a touch of innovation into your collection with Robot Orpheus.
This mechanical wonder is shaped like a robot, and its intricate designs and mechanisms will leave you mesmerized. Not to mention, the soothing tune it plays will be music to your ears for years.
Marble Run Building
This piece is a fun and challenging puzzle model that allows you to build a replica of a marble run machine.
With 294 pieces, 10 marbles, and clear instructions, it offers hours of entertainment as you assemble the machine.
The kit includes spare parts and a crank that uses gears to move marbles through different channels. Perfect for puzzle enthusiasts and those interested in mechanics.