Siboor, a small Chinese 3D printing company, gained fame a few years ago due to their Voron kit being featured on a video of the cheapest Voron kits in the market.
But fear not, because Siboor has grown up, and are now aggressively moving into the more "premium" market segment that has historically been dominated by LDO Motors.
The kit I will cover today (Voron 0.2) was 100% complete, including a complete set of CNC parts, and all the printed parts for anything you'd need printed from ABS, a hot-end, control board, and more.
But how good is it?
What I Love About The Siboor Voron 0.2 Kit
First of all, throughout the build process, Jacques, Vlad, and I were simply BLOWN away by the quality, not only of the CNC parts, but also of the 3D Printed parts, and even of the packaging and organization.
We particularly LOVED how Siboor organized all the hardware into a box with a map, and this saved a TON of time on the build.
What's more, the ingenious idea of using CNC parts – which Siboor has modified to make use of the unique capabilities of metal – makes the machine heavier and more rigid, and I was surprised to see that the max acceleration of the unit on one axis was actually TWICE that of the LDO kit – though ultimately, the recommended acceleration was actually about the same.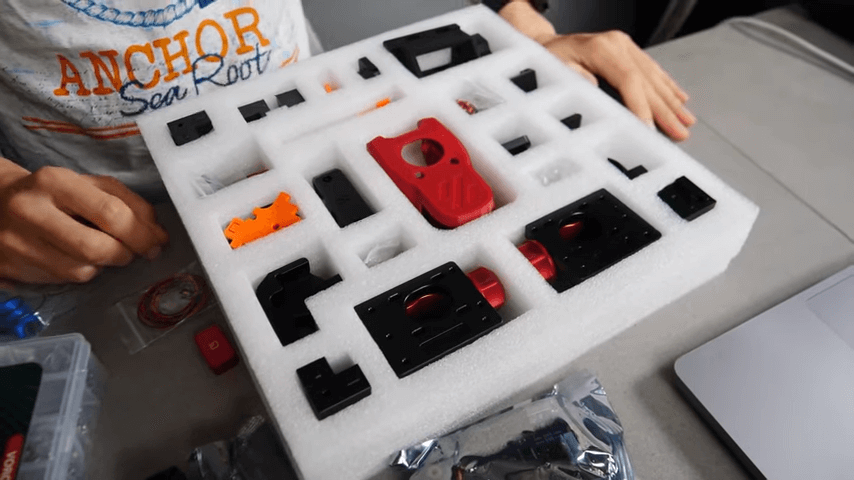 Additionally, Siboor had mostly great documentation, with images explaining things, and sample files on their github.
But really, what I love the MOST about this kit is that it includes absolutely everything – from the Phaetus Dragon hot-end, to the control board, and all the printed or CNC'd parts, all in one box – for the incredible price of just $635!
Oh, and if you want it with 3D printed parts, it's only $515! That's insane, considering the price of the LDO kit, which, again, doesn't include a Pi or printed parts.
What I'd Change About The Siboor Voron 0.2
With that glowing review, you might be surprised to hear that there are actually quite a few things I'd change on the Siboor kit.
First of all, I had a lot of difficulty with the Fly-Gemini board they sent, ranging from my first one being a dud, to issues with connectivity and configuring files.
It took a LOT of work and a LOT of help from 4 or 5 different people at Siboor to get this machine working – largely because my shooting schedule didn't allow for me to spent time figuring it out myself.
Additionally, the kit I received was missing a lot of the upgrades, ranging from the Kirigami bed, to a PicoBilical PCB, and more, however, Siboor actually let me know that they are going to be adding those upgrades shortly, and increasing the price by only a very nominal amount.
If they do, that will make their kit extremely competitive with the LDO in terms of value, but one OTHER thing I'd like to see them change is the documentation.
Though they gave a very clear guide for wiring, and attempt to show the differences between their machine and the official Voron guide in the same way that LDO does, there are a lot of confusing inconsistencies, such as instances of "V0.1" showing up, or updated guides which show parts that are not included in the kit just yet.
This is pretty easy to fix, and they could solve it by just forking the instructions and giving users a clear guide to understand which set of instructions they should follow based on their purchase date.
The Verdict
The Siboor Voron 0.2 is another phenomenal Voron kit, and it well exceeded my expectations.
If you're on a budget, and want the best value for money, even if it means you might need to spend a little more time troubleshooting, figuring things out, or asking for help on Discord, this is the machine for you.
In the end, I think you'll get a more polished product thanks to the CNC machined parts, and I have no doubt, based on how attentive and responsive the Siboor team has been, that in the next few weeks they'll be improving the guides.
I would say this kit gives the LDO kit a genuine run for it's money, at something like ⅔ the price.