In recent years, 3D printing has grown in popularity as a hobby and a professional tool.
It has certainly come a long way since the early times when they used to cost a fortune while today a high-quality 3D printer can be purchased for less than $500.
Obviously, you cannot compare the quality of a $500 printer to that of a printer costing thousands of dollars, but there are numerous options that can provide value for your money at reasonable prices.
However, with so many options on the market, it can be difficult for beginners to find the right 3D printer that meets their needs and requirements.
In this post, I will try to uncover some of the best budget 3D printers under $500 so that you can make an informed purchasing decision.
So, let's get started and find the best 3D printer for your needs and budget!
What Are The Best 3D Printers Under $500?
| Name and Brand | Build volume (mm) | Max. Speed | Price | Where to Buy? |
| --- | --- | --- | --- | --- |
| Anet A8 Plus | 300 x 300 x 350 | Up to 120 mm/s | $259.99 | |
| ELEGOO Neptune 3 | 220 x 220 x 280 | Up to 180 mm/s | $359.99 | |
| Creality Ender 3 | 220 x 220 x 250 | Up to 200 mm/s | $269 | |
| Monoprice MP Voxel | 150 x 150 x 150 mm | Up to 60 mm/s | $444 | |
| Anycubic Photon M3 | 180 x 163 x 102 | 50 mm/h | $319.99 | |
What will you get in a $500 3D printer?
Before we look at the options, let's first see what kind of printer you can get for $500.
3D printers that cost less than $500 are generally classified as budget printers. These are entry-level printers that are ideal for beginners who are purchasing a 3D printer out of curiosity, for academic purposes, or as a hobby.
Due to increased competition in this price range in recent years, we are now seeing an increase in feature-rich budget printers, but these printers are known for their low price point rather than their features.
As a result, in this price range, you should look for printers known for their dependability, stability, print quality, and long life, rather than a slew of high-end features.
Anet A8 Plus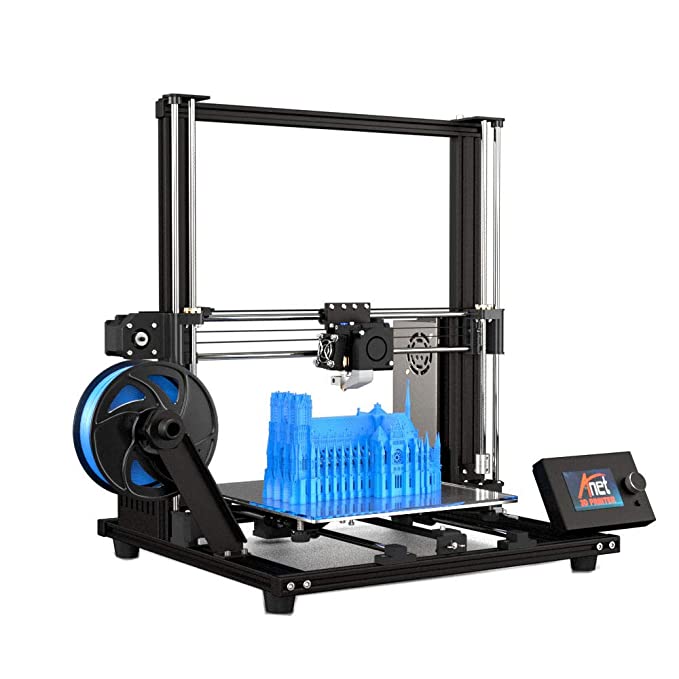 The Anet A8 Plus is based on one of the most popular sub-$500 3D printers. This improved printer is well-known for its dependability and ease of use. The A8 Plus has a larger build volume of 300 x 300 x 350 mm and a slew of improved or entirely new features.
Anet A8 Plus has an upgraded mainboard with added designs for over-current and short-circuit protection, as well as a smaller current configuration that is safe and reliable. It also has an improved all-metal frame for increased stability and printing precision. It can print with 3D printing filaments such as PLA, ABS, HIPS, and others.
This printer is sold as a DIY kit that must be assembled. While assembly may take some time, it is not difficult.
The Anet A8 is also well-known for its robust community support, with a sizable online community offering tips, tricks, and troubleshooting advice.
ELEGOO Neptune 3
The ELEGOO Neptune 3 3D printer is a high-quality, low-cost option for those new to 3D printing. Its compact, lightweight design and user-friendly interface make it an excellent choice for both novice and experienced users.
It has a decent build volume of 220 x 220 x 280 mm and includes an RSG auto-bed leveling system, a removable PEI magnetic platform that provides good adhesion while also being easy to remove prints, a double gear extruder for stable filament feeding, a removable 4.3″ touchscreen, and even smart features like a print resume sensor in case of a power outage or genuine accidents like filament runout, filament breakage, or filament blockage, etc.
The printer also has a heated bed, allowing it to print with a variety of materials such as PLA, ABS, PETG, and others.
The printer comes as a kit and claims to take only about 10 minutes to assemble.
Creality Ender 3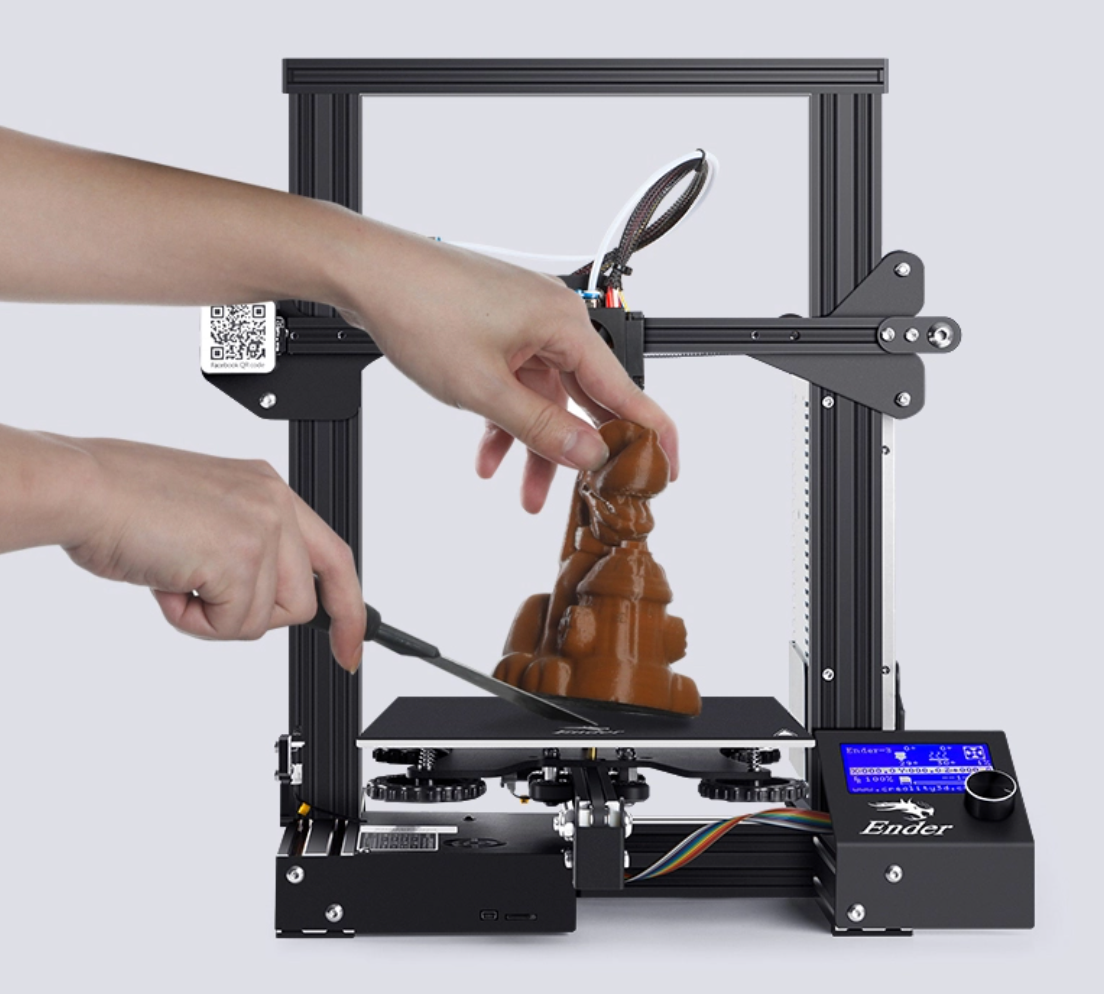 This printer has truly been a global best-seller and no list is complete without mentioning this printer. It has the rare distinction of having shipped a whopping 800,000 units worldwide. When purchasing a printer, every maker, hobbyist, or beginner should consider this option.
At first glance, the Creality Ender 3 appears to be similar to a slew of other low-cost 3D printers, but it is known for being one of the fastest budget 3D printers while still producing excellent print results.
With a print volume of 220 x 220 x 250 mm, this machine is very quiet, has high wear resistance and is built for a long service life. It heats up quickly, and the user interface is clear and informative; it has a print resume feature, and it can print with ABS, PETG, and TPU filaments.
Ender 3 is available as a DIY kit, and while it may take a couple of hours for a new user to assemble, there are numerous videos on YouTube that will help.
Monoprice MP Voxel
The Monoprice MP Voxel is a low-cost 3D printer – also the only fully enclosed 3D printer on this list. Having an enclosed printer benefits you in a variety of ways, including reduced maintenance and the ability to install an enclosure heater for improved print results.
The Monoprice MP Voxel 3D printer is simple to use and packs a punch for the price. It has a build volume of 150 x 150 x 150 mm and a heated build plate that is removable. It includes a Bowden extruder and wireless connectivity for file transfer.
It has an assisted leveling system that makes bed-leveling simple, an easy nozzle swapping system that allows you to change nozzles whenever you need to, 8GB internal memory for storing 3D models, a USB port for connecting a flash drive, a Wi Fi® radio with a hotspot option for connecting your PC, and a built-in camera for monitoring print operations.
It also has a heated bed, allowing you to print with a variety of materials such as PLA, ABS, PETG, and others.
Unlike the other FDM printers on this list, this one comes fully assembled and ready to print as soon as you take it out of the box.
Anycubic Photon M3
I included the Anycubic Photon M3 on purpose to include a resin 3D printer in this list. It is one of the most affordable resin printers on the market, and it produces good print quality.
Being a budget resin printer, the print volume is small measuring only 180 x 163 x 102 mm but it can produce parts with high dimensional accuracy and intricate detailing thanks to its high resolution of 4,096 x 2,560 pixels. The printer also includes compatible slicer software, which eliminates the need to configure other slicers, as well as a user-friendly interface.
This printer also has an upgraded version, the M3 Plus, which you can explore before making a final purchasing decision based on your needs and the price.
Conclusion
In short, there are many excellent options for those looking for a low-cost 3D printer under $500.
The ones mentioned in the above list are some of the most dependable and reliable 3D printers in the market.
All of them provide high-quality prints and simple features at a low cost.
Whatever your budget, there is a 3D printer out there that can meet your requirements and assist you in bringing your creative ideas to life.