The need for large 3D printers has increased rapidly in recent years.
To that end, this article will examine some of the top 600 x 600 x 600 mm 3D printers available on the market right now. Anyone that needs a big number of precise prints should look into purchasing one of these Printers.
Currently, there are no printers with this exact size on the market, but there are some very big printers you can purchase instead.
Why does a large Build Volume matter?
It's crucial to think about a printer's build volume while working with 3D models.
The build volume of a printer is the largest volume that can successfully print an item.
The largest dimensions of an object that can be created using a 3D printer with these dimensions are 600 millimeters in length, 600 millimeters in width, and 600 millimeters in height.
This is a pretty large build volume, and is perfect for those who like to print large and in charge.
What are The Best 600 x 600 x 600 mm 3D printers?
The bigger build volume gives designers and printers more latitude. It's ideal for printing furniture and architectural models. Printing numerous little things simultaneously increases efficiency. The enormous build volume enables for material and production process experiments and printing big functioning pieces.
Professionals and corporations love 600x600x600mm 3D printers. Bigger build volumes enable more efficient fabrication and printing of larger items. Long-term savings are possible.
Without further ado, here is my list:
Comgrow T500
The Comgrow T500 was one of the most anticipated big 3D printers of 2023, and once it arrived at our desk – it didn't disappoint.
You can read the full T500 review of Jonathan over here, but I will summarize the important points for you:
Its 500x500x500mm build volume makes it one of the largest 3D printers available to direct consumers.
It is printing fast – 220mm/s max speed while keeping precise high quality.
The T500 comes with a massive touch screen and open source Klipper software.
Incredibly affordable pricing for such a big 3D printer ($699)
Check out the T500 in Comgrow's store
Creality CR-10 S5
First up is the Creality CR-10 S5, the big boy of the group.
This printer is ideal for individuals who want to print large and in charge, as its build volume measures in at a huge 500mm by 500mm by 500mm.
Its dependability and consistency have made it a standard in the industry.
For those in the market for a high-quality printer without breaking the bank, the Creality CR-10 S5 is a great option.
Its print capacity is 600x600x600mm, and its accuracy is 0.1mm. It has a simple UI and is straightforward to operate.
Anycubic Chiron
The Anycubic Chiron is yet another excellent choice; it prints precisely and has a sizable build space (400x400x450mm).
Also, it has a filament-depletion detector, so you can stop worrying about it happening to you during a print job. The Anycubic Chiron is an excellent printer option for individuals in need of a high-quality, user-friendly device.
It can print at a resolution of 0.05mm with a big print volume of 400x400x450mm.
It's a terrific option for anybody in need of a machine that is simple to operate and yields excellent prints thanks to its automated leveling, filament identification, and quiet motherboard.
Kywoo Tycoon Max 3D Printer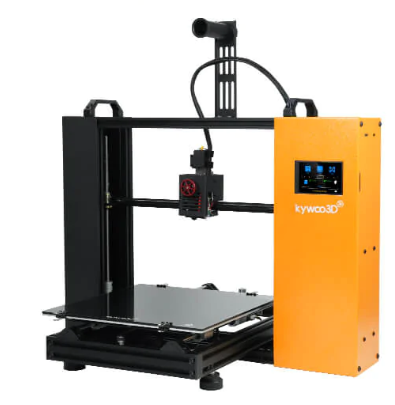 Last but not least, we have the Kywoo Tycoon Max 3D Printer.
This printer is ideal for both professionals and amateurs because to its excellent printing precision and 300x300x230mm construction space. You can print quietly thanks to the machine's silent motherboard and self-leveling features.
High Precision 3D Printer from Kywoo If you want a high-quality printer that's also simple to operate, consider this one.
Incredibly, its print capacity is 300x300x230mm while its accuracy is 0.1mm. In addition to being user-friendly and capable of producing high-quality prints, it also has automated leveling, filament identification, and a quiet motherboard.
Conclusion
If you want to make something elaborate, a 3D printer is a must-have. The machines in this post are some of the top 600x600x600mm 3D printers available on the market.
They are suitable for people who need a greater print volume and desire a high level of accuracy. No matter what your demands are, you are likely to discover a printer that will meet your needs.
Overall, a 600x600x600mm 3D printer is an excellent choice for individuals who wish to produce huge things, boost productivity and have more creative flexibility.
It's also an excellent purchase for companies and agencies in need of a high-performance machine capable of producing prints of substantial size and complexity.
So, which one should you choose? Well, it all depends on your specific needs and preferences. But with any of these four printers, you're sure to get a high-quality, reliable 3D printing experience. Happy printing!